Live Online – Virtual Events
Jeff McBride – MagicQuest
a new kind of event —
Show, tour, and VIP after-party, all delivered as a fully interactive event on the Zoom platform.
The Zoom platform turns out to be perfect for magic. McBride's show combines magic with a story – the story of a world-class magician's quest to find real magic, delivered with production values unlike anything else you may have experienced. Originally presented as a 90 minute ticketed event, MagicQuest can be adjusted to fit a particular theme and timeframe. Challenge us!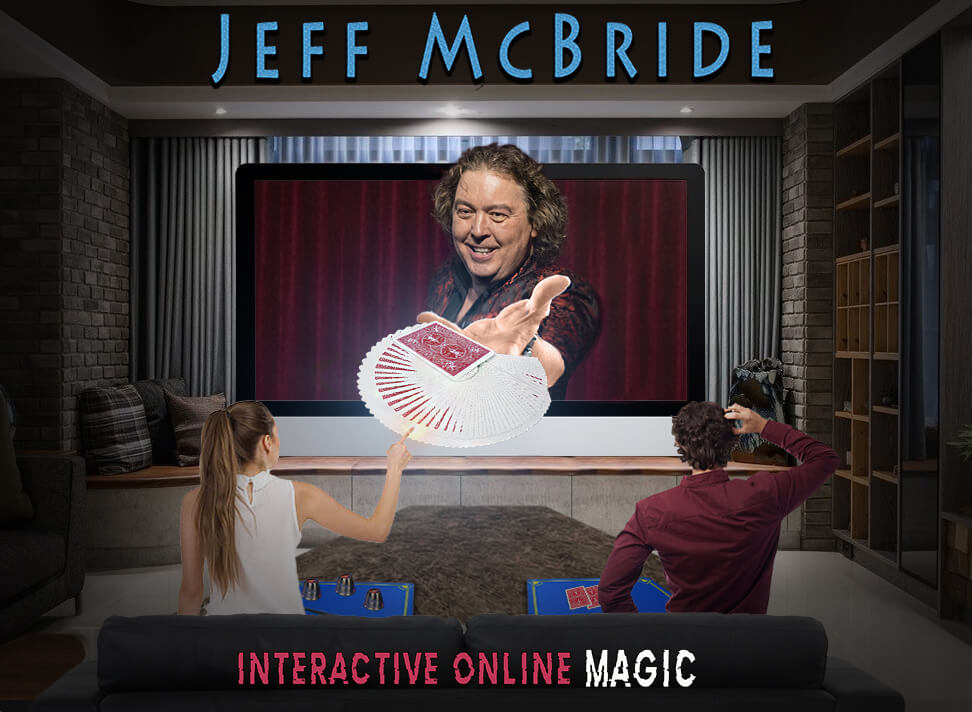 The world we've all known has changed dramatically. We are aware that event planners now need practical solutions for these challenging times.
You have meetings to put on. You are coordinating major events and product launches. You have choices.
You can sit back, watch junk TV or play video games and cry or complain, or…

You can get creative.
We're creative types ourselves, and we have some solutions. We offer a powerful magical solution to your current business or event challenges.
Why Magic?
Since the dawn of time, people have been fascinated with the art of illusion.  Magic teaches us that our world is constantly changing, and that's a good thing! Magic reminds us that there is still wonder and surprises in our world. Magic delights, entertains, and illuminates.
Entertainment
Jeff McBride is recognized around the world as one of the foremost innovators in performance magic and education. He is a headline entertainer in Las Vegas and a consultant for entertainment giants David Copperfield, Mat Franco and Penn & Teller.  Jeff is a magician's magician.  He has fooled Penn & Teller on their hit TV show FOOL US, and has unbelievable skills to entertain at your next online or public event.
Trainer, Educator, Keynote Speaker
For over thirty years, Jeff has been operating the world's top school for magicians, located in Las Vegas. Jeff custom creates content to fit your meeting or event.
Magic gets attention. Jeff can teach you the secrets on how to capture people's attention and to hold it.

Magic creates connection. Magicians know that the power of interaction and participation is essential to enjoyment.
Magicians solve impossible problems.  Wouldn't it be great if you could make all of your problems disappear?  Jeff teaches you the secret techniques of how magicians thing, so you can apply them to your life and work.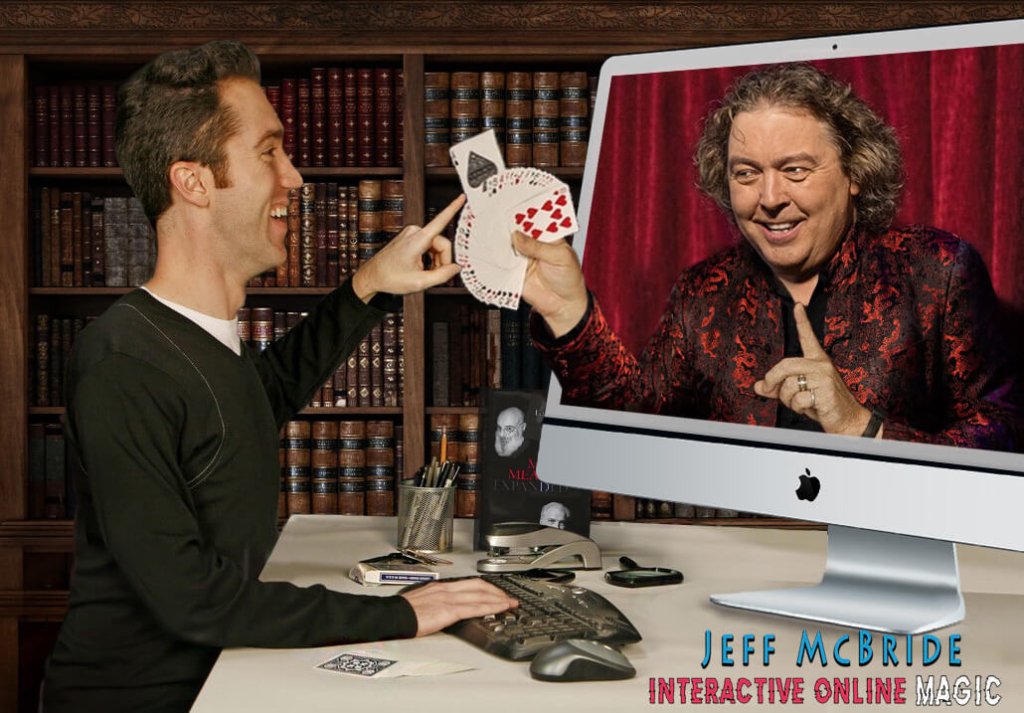 Custom Content Creation
His programs will educate, entertain, empower, and enlighten your clients or teams. You can learn more right here on this website.
We offer creative solutions which we are uniquely capable of delivering, virtually, over the internet, right now. Solutions you can use, or sell to your clients–right now. Here are just a few:
Meetings and Events still need to happen. But no one can travel, or even meet in person in one location. So, whether your company is using Zoom, Goto Meeting, WebEx, Google Meet (formerly Hangouts), or one of the dozen or more other platforms, meetings are often better with entertainment that really engages the group and/or short keynote talks. With McBride, the keynote includes the entertainment!
General Sessions, Galas, & Fundraisers: We've been producing streaming magic shows for nine years. Jeff McBride hosts, and brings in guests from many different disciplines each week. Sometimes these are long-form talk shows, not unlike the general session meetings you've all attended. Other times they are "just a show," designed to sell tickets, or as a reward to lucky employees or clients. The point is, "the show must go on," and we have almost a decade of experience making sure that happens…even when it can only happen online.
Celebrate! New team members, new business, milestones you've reached—celebrations are extremely important for keeping morale and the team's spirits up.  Jeff McBride creates and produces celebratory events and has a successful history of doing so for over 30 years, Most recently his "Wonderground" magical party/ nightclub, which has run for over a decade now and is one of Las Vegas' longest-running magic events) went completely virtual for the first time, with over a thousand attendees. We can help you put together events just like that one!
Host a Virtual Happy Hour every day, just to keep your team feeling more like a team. Jeff McBride can perform short, interactive magic pieces for the group, or even teach a simple magic trick, the learning of which can help open new ways of thinking and feeling within the group. No special props or prior knowledge is required. He could do it for you every day for a week or more. Something you're team will look forward to every day.
So…don't despair.
Embrace the opportunities created by whatever challenges you might be experiencing.
We're here to help.
In the midst of every crisis, lies great opportunity. - Author: Albert Einstein